As many of us who have been a part of a maintenance organization realize, the function of the Planner is usually one in which we expect to get a lot of return for our investment.
We expect the plans they create to reflect the most efficient and safest way of performing a maintenance task, while at the same time insuring, from a reliability perspective, that we do not introduce infant mortality by doing the task wrong.
Another element often overlooked is that Technician skills and experience can vary greatly, and thus similar tasks often have a wide latitude of reported time charged to them if the work is not clearly defined.
But do all planners look at a task the same way? A number of factors may change the way the plan is written which can include, for example, the experience of the Planner with the particular task.
What are the elements of a maintenance job that are often not included in the plan and thus cause work to stop or be delayed?
These include:
Instructions
Parts list
Safety considerations
Prints, Drawings, Manuals, etc…
The reality of maintenance is that a lot of jobs we do are repeated multiple times over the years and some facilities "replan" the event every time. As a result, this leads to a lot of mistakes and wasted execution time.
Because the elements which need to be included in a job plan should be useful to the Technician, it becomes necessary to use some standard job plan templates. This will insure nothing is left out and it is written so the Technicians can perform the task correctly.
An added benefit is that Technicians begin to see the job plans as being more consistent and "recognize" the work as being more professional.
Need help developing a standardized plan template? Watch this On-Demand Webinar on this topic.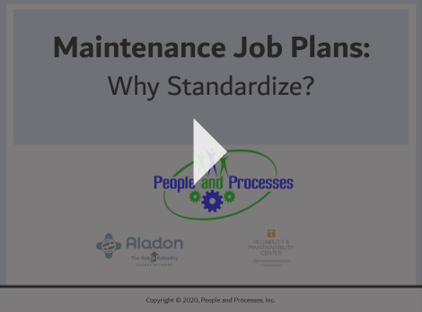 Interested in learning more? Join us for a Maintenance Planning and Scheduling Course by attending an Upcoming Public Course or Bring It Onsite.
Options to consider
Are you 100% satisfied with your Maintenance Planning and Scheduling efforts?
If your organization is not reaching your expectations with your planning, scheduling, and coordination efforts, it's time for Coaching and Mentoring. Whether you choose to bring Our Coach Onsite, we will work step-by-step with your organization to drive significant improvement. Contact us today to learn more.
Continue to develop your professional career with People and Processes Inc, with one of the few programs of its kind in the nation. Begin your RMIC® Planning and Scheduling Certification Program journey now.
Other Webinars: